So, you've just upgraded to Ubuntu 11.04, and now Supervisor doesn't work. You need a workaround, but don't want to touch any of the files managed by apt. Here's what to do.
Recent Articles
Back in 2004, I posted an extremely brief history of Unix to the SDF internal BBS. I recently found a copy of it and am posting it here for posterity.
It's like a chain letter, but for Unix nerds.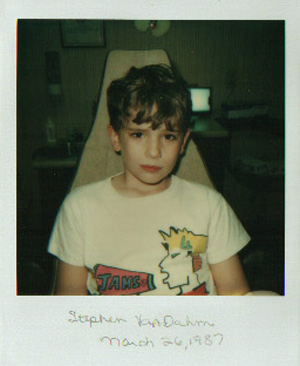 Stephen just installed Windows 7.

Recent Bookmarks
These are periodically retrieved from my my Pinboard account.
I want one!
Automatically-generated filler content on demand!
What a busy guy.
Running inside an ARM emulator on an 8-bit microcontroller, "it takes two hours to boot up to a bash prompt… [and] the effective clock speed is about 6.5 kilohertz.
David Heinemeier Hansson captures the ambivalence I have towards my profession.
The article suggests that "maybe students intending to major in STEM fields are changing their minds because those curriculums require more work, or because they're scared off by the lower grades, or a combination of the two." That sounds about right — when I was in college, I worked my ass off day and night for lousy grades.
"Deficit-worriers portray a future in which we're impoverished by the need to pay back money we've been borrowing. They see America as being like a family that took out too large a mortgage, and will have a hard time making the monthly payments. "This is, however, a really bad analogy in at least two ways."
"Look, everyone makes mistakes. It's true. But not all of us have the chance to make mistakes that end up costing millions of dollars in hardware and production support costs."
Twitter Activity
"Using this extension makes me feel like I'm slapping @gruber in the face every time I do a page load. It's excellent!" http://bit.ly/blYPuq
July 15, 2010
The iPhone 4's reception issues are inexcusable. Apple built its reputation with hardware and software that "just works."
July 14, 2010
Now "Bill and Ted and Batman's Excellent Adventure" I can get into. #movieswithbatman
July 13, 2010
The obvious #movieswithbatman is "Angel and the Batman," but I'd much rather see "Sex, Lies, Videotape, and Batman." Then again, maybe not!
July 13, 2010
RT @malcolmt Yes!! 80's-style remake of Firefly opening sequence: http://io9.com/5582513/
July 9, 2010
Great CoffeeScript presentation at #pymntos tonight.
July 9, 2010
Monthly timesheets are due, and you're *way* behind? No problem: svn log —revision '{2010-06-01}':HEAD | more
July 2, 2010
Totally unfair: @BestBuy wants to fire the guy who made those hilarious iPhone v. EVO YouTube videos. http://tinyurl.com/3a8odzw
July 2, 2010
Wow, there sure are a lot of marijuana-themed apps in the Android Market.
June 26, 2010
Just switched to Android from an original iPhone. So far, so good.
June 25, 2010